Welcome
The CMS exists to promote the use of church music of the highest quality for the diverse needs of the Christian Church.
We seek to enable performers and worship leaders, composers and scholars, by publishing church music, new and old, not otherwise accessible in suitable form, and by providing a platform for research and educational material.
Free Music Downloads
In an important new development in the provision of its service to church music, the CMS is now making music submitted by members of the Society - original works, editions and arrangements  - available on its website for downloading, free of charge, for liturgical use only. 
Lectures and Papers
Our Lectures and Papers resource has been now been expanded by the addition of scans of several CMS lectures and papers from the last forty years. There is also a newly submitted paper by our General Editor - Psalms and Hymns in the early nineteenth century: the collections of Jane Clarke and Theophania Cecil – within which are examined the contents of two publications associated with the fashionable chapels-of-ease within the central London parishes of Marylebone and Holborn.  
Forthcoming Publications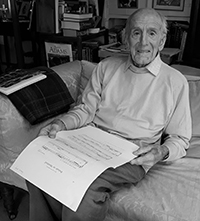 The CMS is delighted to announce the  forthcoming publication of the anthem 'Most glorious Lord of life' by the Society's senior Vice-President Francis Jackson CBE, composed in 2009 for the Edington Musical Festival, Wiltshire. This will be published soon in order to be available for use at Easter, Covid-19 restrictions permitting. 
Other titles coming soon include the next in our series of great 16th-century Responds, 'Honor, virtus et potestas' by Thomas Tallis, edited by Sally Dunkley (suitable for the season of Trinity) and the first modern edition of one of the earliest 'Short' Service settings, that by Nicholas Strogers, edited by our General Editor, Geoffrey Webber. 
Resources for Returning to Singing
The CMS continues with the aim of offering critically-acclaimed, flexible and highly adaptable resources for singers and choirs planning a measured and careful return to singing when Coronavirus restrictions are lifted. View recommendations from our catalogue and from the new 'Music Downloads' page.

---
Please read our 'Membership' page and consider taking up the benefits of becoming a member of the Society.
Please visit our 'Catalogue' through which you can order our titles from our publishers, Oxford University Press, or from Banks Music Publications (with 25% discount from Banks if a Society member).
Links
Royal School of Church Music (RSCM)